Fastest Growing Cities in the US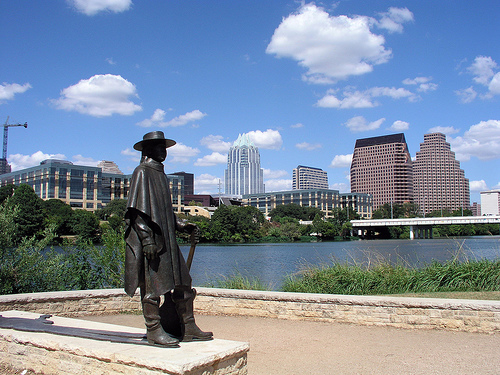 Whether you?re looking at big, established cities or smaller towns, the places in the United States that are growing most rapidly are likely technology hubs close to universities, according to ?Forbes? magazine.
The country?s fastest growing metro areas
are also likely to be warm weather places in the west or the south.


Measuring what it calls gross metropolitan product, GMP, ?Forbes? looked at large and small metropolitan areas. The first group consists of the the largest 100 metro areas?areas with at least 528,000 people?with the largest projected GMP.


Austin, Texas has a projected population increase of 15 percent by 2012.
Cape Coral-Ft. Myers, Fla.: Forbes predicts that average personal income here will grow by 6.9 percent annually by 1812. During that time, the area?s population is also forecast to grow by 13.3 percent.
Atlanta, Ga.: Already a boom town, by 2012, it?s expected to grow another 11 percent. Personal income will grow by 6.3 percent annually during that time, according to estimates.
Seattle, Wash.: Boeing and Microsoft help make this area thrive.
San Francisco, Calif.: Proximity to Silicon Valley, its status as financial capital of the west and a thriving tourism business put San Francisco in the top five.
Dallas-Ft. Worth, Texas: Alcatel-Lucent, Ericsson and Texas Instruments have headquarters in the Dallas metro area. So do ExxonMobil, Kimberly-Clark and Energy Future Holdings Corp.. Research In Motion, which makes BlackBerry, will open its US headquarters here.
San Jose, Calif.: Adobe Systems, eBay and Cisco are headquartered here, among others. San Jose produces more patents than any other US metro area.
Houston, Texas: During the next five years, population here is projected to grow by more than 10 percent and personal income for Houston residents will increase by nearly 6 percent,
Orlando, Fla.: Not just for tourists, Orlando is also an engineering center with Lockheed Martin and Siemens headquartered nearby in addition to Disney.
Palm Bay-Melbourne-Titusville, Fla.: Its position on Florida?s space coast attracts major government contractors and their highly educated employees to this area.


Alabama has three candidates in the smaller metropolitan areas ?Forbes? highlights.


Mobile, Ala. has become a thriving manufacturing centers since Australian shipbuilder Austal set up its U.S. operations here in 1999. Last year, ThyssenKrupp announced plans to build a $3.7 billion steel plant in Mobile, expected to bring 2,700 new jobs by 2010.
Texarkana, Texas/Ark.: Not expected to increase much in population?only 2.84 percent by 2012?growth here is expected to come from the area?s largest employer, the Red River Army Depot, a major maintenance and storage facility for ammunition and military equipment.
Palm Coast, Fla.: Has a projected population growth of 31 percent by 2012, the fastest rate in the country.
Huntsville, Ala.: Another military facility, the Redstone Arsenal, is expanding due to U.S. military base realignments, creating as many as 12,000 new jobs. Boeing, Lockheed Martin and NASA are among the other major employers here. Huntsville?s population is expected to grow by 15 percent by 2012.
Prescott, Ariz.: Expected to grow by more than 16 percent, partly because of its ?perfect climate? and partly because of its proximity to Phoenix.
Auburn-Opelika, Ala.: By 2012, Auburn?s population is expected to grow by more than 17 percent.
St. George, Utah: Construction has been the driving force behind the growth here, thanks mostly to an influx of retirees. Located about 120 miles from Las Vegas, St. George is also becoming a low-cost manufacturing area.
Port St. Lucie, Fla.; The city is becoming part of a biotech cluster.
Gulfport-Biloxi, Miss.: Its population is expected to increase by 17 percent by 2012. Gulfport is a transportation hub and a refiner and producer of oil and natural gas.
Naples-Marco Island, Fla.: With its ideal location along the Gulf of Mexico, Naples has attracted a large number of already wealthy residents who don?t have to go into debt to buy property here. Personal income is expected to grow by 7.2 percent on average until 2012?the top rate in the nation.


Of course, these are just predictions and GMP is just one way to look at city growth. America?s two largest cities, New York and Los Angeles,
experienced the largest growth numerically between the years 2000 and 2003. Los Angeles grew by 125,000 to more than 3.8 million people, while New York increased its population by 77,500 in three years. And San Francisco, projected to keep growing by ?Forbes,? actually experienced
a 4.2 percent decline in population during those years.
Could be the city on the bay also suffered from sky-high housing costs before the bubble burst. Detroit, Chicago, Philadelphia and Baltimore also experienced population declines.


Census stats
show that the largest growing city from 2005 to 2006 was North Las Vegas, Nev., which grew by 11.9 percent from 176,527 to 197,567. Its proximity to still-booming Las Vegas and Nellis Air Force Base likely contributed to that growth.


photo credit: That Other Paper
Find Property Managers Near You
Select Property Type
Single Home or Condo (Valued up to $300K)

Single Home or Condo ($300K to $500K)

Single Home or Condo ($500K to $1 Million)

Single Home or Condo (Over $1 Million)

Multi-Family (2-4 units)

Multi-Family (5-19 units)

Multi-Family (20-99 units)

Multi-Family (100+ units)

Homeowners Association (2-49 units)

Homeowners Association (50-99 units)

Homeowners Association (100+ units)

Condominium Association (2-49 units)

Condominium Association (50-99 units)

Condominium Association (100+ units)

Retail (Up to 9,999 sqft)

Retail (10,000 - 100,000 sqft)

Retail (100,000+ sqft)

Office (Up to 9,999 sqft)

Office (10,000 - 100,000 sqft)

Office (100,000+ sqft)

Warehouse/Distribution (Up to 100,000 sqft)

Warehouse/Distribution (100,000+ sqft)

Light Manufacturing (Up to 100,000 sqft)

Light Manufacturing (100,000+ sqft)

Parking Garage

Biotech/Mission-Critical

Vacation (1-2 units)

Vacation (3+ units)

Other Associations (Hotel, Resort etc.)

Mobile Home Community