Secondary markets receiving more attention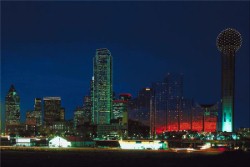 New York
,
Boston
,
Washington, D.C.
, the
San Francisco Bay Area
,
San Diego
,
Los Angeles
and
Seattle
have been considered six leading markets for rental housing as the recession winds down and housing improves, a report notes.

Performances have been strong enough to encourage heavy competition and interest among investors, according to Apartment Finance Today. However, the level of activity may have hit the point where it makes sense to investigate other markets.

Secondary markets like
Denver
,
Portland
,
Dallas
and
Houston
are looking more interesting to many investors, the news source reports. While their fundamentals may not be quite as strong in some respects, they have been notable and the decrease in attention could make them more viable.

This move by investors became apparent in the second half of 2011, Marcus & Millichap's managing director of research, Hessam Nadji, told AFT. At the same time, markets such as
Austin
,
Nashville
and
Detroit
have been better than the leading six in some respects, posting high
rental property
value increases.

Investors may find it beneficial to investigate secondary markets rather than going to the same few leading areas. A strong property management company can help turn these opportunities into profitable ventures.
Find Property Managers Near You
Select Property Type
Single Home or Condo (Valued up to $300K)

Single Home or Condo ($300K to $500K)

Single Home or Condo ($500K to $1 Million)

Single Home or Condo (Over $1 Million)

Multi-Family (2-4 units)

Multi-Family (5-19 units)

Multi-Family (20-99 units)

Multi-Family (100+ units)

Homeowners Association (2-49 units)

Homeowners Association (50-99 units)

Homeowners Association (100+ units)

Condominium Association (2-49 units)

Condominium Association (50-99 units)

Condominium Association (100+ units)

Retail (Up to 9,999 sqft)

Retail (10,000 - 100,000 sqft)

Retail (100,000+ sqft)

Office (Up to 9,999 sqft)

Office (10,000 - 100,000 sqft)

Office (100,000+ sqft)

Warehouse/Distribution (Up to 100,000 sqft)

Warehouse/Distribution (100,000+ sqft)

Light Manufacturing (Up to 100,000 sqft)

Light Manufacturing (100,000+ sqft)

Parking Garage

Biotech/Mission-Critical

Vacation (1-2 units)

Vacation (3+ units)

Other Associations (Hotel, Resort etc.)

Mobile Home Community