Modest revenue growth for apartment industry in first quarter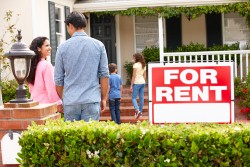 Thanks to continually growing rental demand, an increasing occupancy rate and a limited supply of available units, MPF Research reports the apartment sector saw considerable growth in terms of revenue during the first three months of 2012.

The research firm's first quarter report indicates overall revenue growth across the industry rose 1.1 percent from the previous period. Also, occupancies increased mildly quarter-to-quarter, while effective rents for new lease contracts hiked nearly 5 percent.

"An improving economy and still-limited loss of renters to home purchase are helping spur apartment demand," said MPF Research vice president Greg Willett. "At the same time, deliveries remain very limited by historical standards."

In terms of specific areas of the country, the Bay Area and
Boston
continued to lead the nation in rent growth.
San Jose
and
San Francisco
posted rent growth of at least 11 percent on a quarterly basis, while Beantown experienced a gain of 8.1 percent.

February saw a substantial increase in rent growth, another apartment research firm notes. According to Axiometrics, the month posted the largest gain in rents since June of last year. Property managers may be able to continue to boosting rents as the year progresses and demand remains strong.
Find Property Managers Near You
Select Property Type
Single Home or Condo (Valued up to $300K)

Single Home or Condo ($300K to $500K)

Single Home or Condo ($500K to $1 Million)

Single Home or Condo (Over $1 Million)

Multi-Family (2-4 units)

Multi-Family (5-19 units)

Multi-Family (20-99 units)

Multi-Family (100+ units)

Homeowners Association (2-49 units)

Homeowners Association (50-99 units)

Homeowners Association (100+ units)

Condominium Association (2-49 units)

Condominium Association (50-99 units)

Condominium Association (100+ units)

Retail (Up to 9,999 sqft)

Retail (10,000 - 100,000 sqft)

Retail (100,000+ sqft)

Office (Up to 9,999 sqft)

Office (10,000 - 100,000 sqft)

Office (100,000+ sqft)

Warehouse/Distribution (Up to 100,000 sqft)

Warehouse/Distribution (100,000+ sqft)

Light Manufacturing (Up to 100,000 sqft)

Light Manufacturing (100,000+ sqft)

Parking Garage

Biotech/Mission-Critical

Vacation (1-2 units)

Vacation (3+ units)

Other Associations (Hotel, Resort etc.)

Mobile Home Community