Real estate stakeholders concerned about rental construction rates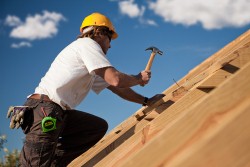 Rental properties may become less profitable in the coming years, some stakeholders fear, as increased development of apartments adds significantly to the supply of available properties.

National apartment vacancies are currently at decade-low levels, having fallen to 4.9 percent in the first quarter according to analytics firm Reis. This is the lowest level since 2001 and the third time the firm has reported vacancies below 5 percent in 30 years, National Real Estate Investor notes.

Despite the impact low vacancies have had on rent growth and the leverage landlords and rental managers have gained in terms of pricing and reducing concessions, however, some fear the current state of affairs will not last. Although few units were added to the market this quarter, the news source notes up to 200,000 more may be completed before the end of 2013, more than triple the rate of inventory growth experienced in 2011.

These projections may not be as certain or as problematic as they might seem, however. Property completion dates are often pushed back due to construction delays and other factors, the news source notes, and the supply may be concentrated largely in certain markets. While that could increase the impact on those areas, others might experience little change from current conditions, given the more moderate pace of development.

Another factor is the increase in renter households being formed and the number of Americans who prefer the renter lifestyle over homeownership.
Find Property Managers Near You
Select Property Type
Single Home or Condo (Valued up to $300K)

Single Home or Condo ($300K to $500K)

Single Home or Condo ($500K to $1 Million)

Single Home or Condo (Over $1 Million)

Multi-Family (2-4 units)

Multi-Family (5-19 units)

Multi-Family (20-99 units)

Multi-Family (100+ units)

Homeowners Association (2-49 units)

Homeowners Association (50-99 units)

Homeowners Association (100+ units)

Condominium Association (2-49 units)

Condominium Association (50-99 units)

Condominium Association (100+ units)

Retail (Up to 9,999 sqft)

Retail (10,000 - 100,000 sqft)

Retail (100,000+ sqft)

Office (Up to 9,999 sqft)

Office (10,000 - 100,000 sqft)

Office (100,000+ sqft)

Warehouse/Distribution (Up to 100,000 sqft)

Warehouse/Distribution (100,000+ sqft)

Light Manufacturing (Up to 100,000 sqft)

Light Manufacturing (100,000+ sqft)

Parking Garage

Biotech/Mission-Critical

Vacation (1-2 units)

Vacation (3+ units)

Other Associations (Hotel, Resort etc.)

Mobile Home Community