Chicago housing efforts may take new direction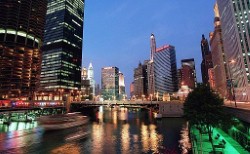 The
Chicago
Housing Authority is re-evaluating its development efforts and Plan for Transformation, an initiative that has been in progress for more than a decade.

Public housing redevelopment efforts so far have used funding from the U.S. Department of Housing and Urban Development to support partnerships with private developers who focused construction efforts on mixed-income communities. The program was meant to replace concentrations of poverty with more prosperous housing and reduce density while improving diversity, according to Apartment Finance Today.

Public housing units, market-rate and affordable condominiums and other accommodations were mixed, in the CHA efforts. Some signs indicate that, while the plan is now past 80 percent completion, it may have unintended side effects. For example, the news source notes, an assessment suggests that the mix of units recreated the split along income lines, while reducing the density of housing in so many areas may have cut into supply.


Rental managers
and other housing industry stakeholders will likely be impacted significantly by whatever new direction or modifications the CHA makes. Additional multifamily units and rental homes, for example, could lead to more competition and depress rent growth.
Find Property Managers Near You
Select Property Type
Single Home or Condo (Valued up to $300K)

Single Home or Condo ($300K to $500K)

Single Home or Condo ($500K to $1 Million)

Single Home or Condo (Over $1 Million)

Multi-Family (2-4 units)

Multi-Family (5-19 units)

Multi-Family (20-99 units)

Multi-Family (100+ units)

Homeowners Association (2-49 units)

Homeowners Association (50-99 units)

Homeowners Association (100+ units)

Condominium Association (2-49 units)

Condominium Association (50-99 units)

Condominium Association (100+ units)

Retail (Up to 9,999 sqft)

Retail (10,000 - 100,000 sqft)

Retail (100,000+ sqft)

Office (Up to 9,999 sqft)

Office (10,000 - 100,000 sqft)

Office (100,000+ sqft)

Warehouse/Distribution (Up to 100,000 sqft)

Warehouse/Distribution (100,000+ sqft)

Light Manufacturing (Up to 100,000 sqft)

Light Manufacturing (100,000+ sqft)

Parking Garage

Biotech/Mission-Critical

Vacation (1-2 units)

Vacation (3+ units)

Other Associations (Hotel, Resort etc.)

Mobile Home Community