Boston, New York metro multifamily markets staying strong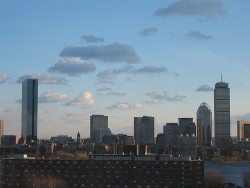 Property management companies
and owners should find conditions beneficial in
Boston
and
New York
, as rent growth continues in the two markets.

Both metro areas have experienced major rent growth in recent years as job-seekers and others flocked to their available apartments. The multifamily vacancy rate in Boston is below 3 percent, and New York's may be lower. These and other prominent metro areas have gained new residents as Americans sought jobs or additional education in recent years. Apartment supplies remain limited, meaning that single-family rentals in and around the cities are likely to remain profitable.


Boston rental housing expected to stay strong


Tight supplies and job creation are expected to drive rents to new record highs before the end of this year in the Boston metro area, according to Marcus & Millichap. The firm projects conditions will continue to favor rental managers and owners with asking and effective rents rising 3.4 and 3.9 percent, respectively. That would mark a substantial improvement over the 2 and 2.3 percent growth the metrics posted in 2011.

Favorable circumstances will not last forever, though, as developers are already working on new supply. About 1,500 new units are expected to be completed in Suffolk County by 2014, and additional apartments may be in the planning stages.

Rents have risen high enough that popular areas are becoming too expensive for some, such as young professionals, empty-nesters and families. Some of these residents are moving to the suburbs or other areas outside the core out of necessity, Marcus & Millichap notes.


Supply limitations continue to push rents in New York


In Manhattan, June was marked by lower rent growth than May, although one-bedroom apartments experienced a 1.2 percent increase.
New York City
Mayor Michael Bloomberg's recent announcement of plans to create more micro-units could help to feed the metro area's demand for rental housing, but development prospects are generally limited, since most usable land in New York is already in use.

As a result, rents are expected to go yet higher, with Real Impact Real Estate reporting that the average renewal on a two-year lease will cost 12.8 percent more for all unit types. Some may see costs go up by more than 15 percent. At the same time, others may exhibit little growth, as Manhattan's submarkets continue to display their typical variety. Rents for certain property types dropped during the month in a few submarkets, even if these decreases were far outweighed by rent growth.
Find Property Managers Near You
Select Property Type
Single Home or Condo (Valued up to $300K)

Single Home or Condo ($300K to $500K)

Single Home or Condo ($500K to $1 Million)

Single Home or Condo (Over $1 Million)

Multi-Family (2-4 units)

Multi-Family (5-19 units)

Multi-Family (20-99 units)

Multi-Family (100+ units)

Homeowners Association (2-49 units)

Homeowners Association (50-99 units)

Homeowners Association (100+ units)

Condominium Association (2-49 units)

Condominium Association (50-99 units)

Condominium Association (100+ units)

Retail (Up to 9,999 sqft)

Retail (10,000 - 100,000 sqft)

Retail (100,000+ sqft)

Office (Up to 9,999 sqft)

Office (10,000 - 100,000 sqft)

Office (100,000+ sqft)

Warehouse/Distribution (Up to 100,000 sqft)

Warehouse/Distribution (100,000+ sqft)

Light Manufacturing (Up to 100,000 sqft)

Light Manufacturing (100,000+ sqft)

Parking Garage

Biotech/Mission-Critical

Vacation (1-2 units)

Vacation (3+ units)

Other Associations (Hotel, Resort etc.)

Mobile Home Community