Contacting Property Manager...
Alpine Meadows Property Management

Box 7819
Breckenridge, CO 80424

Types of Properties We Manage:

- Single Home/condo (up to $300K)
- Single Home/condo ($300 to $500K)
- Single Home/condo ($500K to $1M)
- Single Home/condo (over $1M)
- HOA (2 - 49 units)
- HOA (50 - 99 units)
- HOA (100+ units)
- COA (2 - 49 units)
- COA (50 - 99 units)
- COA (100+ units)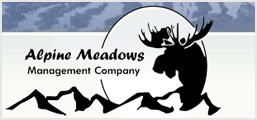 Alpine Meadows is conveniently located in the Victorian District of Breckenridge where it has been conducting business as a property management company for over 24 years. Mike Jocelyn, the founder and principal owner moved to Summit County more than 25 years ago leaving a distinguished banking career in Denver. Mike is a real estate developer, Colorado Real Estate Broker and holds a degree in accounting. In the 1980's he participated as a developer in several condominium projects in Summit County where his insightfulness quickly lead him to fulfill what was lacking in our community, a property management company that would satisfy the needs of the increasing number of homeowner associations that began to surface. He then expanded the business to include short-term vacation rentals, which now includes several private homes, townhomes, and condos in Breckenridge.
Business Philosophy
Alpine Meadows' business philosophy is that of a "hometown", neighborly approach, where personalized, individualized, and superior services are the norm. In order for our staff to correctly discern and grasp the unique needs and idiosyncrasies of each association, board member and owner, and to effectively allocate the time necessary to each and every client, Alpine Meadows controls and limits its growth. We want to know our clients and our clients' needs personally, and respond to requests, questions and inquiries promptly. Alpine Meadows is family owned and operated and we take pride in the fact that our clients quickly become part of our extended family.
Property Management
Alpine Meadows Management Company (AMMC) has been in the property management business in Summit County for over twenty-three years. We fulfill property management contracts for nine associations and thirty-two privately owned properties in the Breckenridge area.
In-house Services
1) Maintenance Division: The Director of the Maintenance Division, Brandon Jocelyn, has been with Alpine Meadows for several years with more than 25 years experience in all phases of construction. His staff is fully qualified in every aspect of building maintenance and repairs and includes specialists in electrical, plumbing, boiler maintenance and repair, extensive carpentry skills and hot tub maintenance and repair. The maintenance staff has more than 53 years of cumulative experience in their five-man division. They provide 24-hour on call service for after hour emergencies. Alpine Meadows takes pride in the fact that their maintenance staff has continually demonstrated the ability to make quick and responsible decisions when the unexpected occur. The guest's comment cards consistently confirm that the staff exceeds the guest's expectations with their prompt and professional performance.
2) Housekeeping Division: The Executive Housekeeper Erica Moullen, has been a resident of Summit County for 30 years and was previously involved with several local private home cleaning companies. A majority of Alpine Meadows' projects are timeshares with the weekly challenge of same day check-in/check-out. Erica's organizational skills and attention to detail are demonstrated by her staff's ability to meet this demanding schedule with quick and quality cleans. Professionalism and excellence in service are quantified with continual, superior ratings on the Alpine Meadows guest comment cards.
Contact us today!