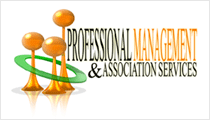 Professional Management and Association Services, Inc.
MAIN OFFICE
12905 SW 132nd Street
Miami, FL, 33186
Welcome
Provide top quality management to our customers, keeping your business for the long term.
Professional Management & Association Services Inc., is a full service association management company providing a wide range of services to non-profit organizations such as Condominiums, Home Owner's Association and Commercial Associations in the state of Florida. Our staff is fully trained in the Association business to execute each Association's needs. We can help Board members become better leaders as well as optimize your maintenance dues, and successfully handle your Association's day-to-day operations.
Management
Architectural Modifications: Provide guidance to owners who wish to perform a modification to their unit
Annual Meetings: Assist Legal Counsel in preparation of the Association's Annual Meeting
Bidding of Contracts: Provide bidding services to the Association as per work specification.
Building & Fire Enforcement Violations: Handle Code Violations with Inspectors. Coordinate preventive maintenance
Emergency Services: 24/7 Emergency Services
Inspections of Property: Make regular visits to property.
Insurance Administration: Assist the Board of Directors and/or their Insurance Committee with their annual insurance bidding.
Management Report: At monthly meeting, provide to Board members: meeting minutes, management report, violation report, call log, and financial statements.
Maintenance Personnel: Provide guidance, management and supervision to Association's employees
Accounting
Accounts Payable: Prepare checks for Board Signature
Accounts Receivable: Bill, & Collect Assessments. Free Lockbox Services!
Budget: Prepare budgets for the Board of Directors' review.
Delinquent Accounts: Provide monthly delinquent report to Board of Directors.
Demand Letters: Mail monthly friendly & demand letters to delinquent owners
Financial Statements: Prepare monthly/quarterly financial statements including Balance Sheet, Income/Expense Statement, Cash Flow, Reserve Statement, General Ledger Detail, Trial Balance, and Accounts Receivable Report.
Income Taxes: Coordinate with the Association's CPA in the filing taxes
Liens: Provide to the Association's Attorney supporting documentation for filing of liens.
Reserve Transfers: Make monthly transfer into Reserve Account.
Special Assessments: Coordinate, bill, collect, monitor and account properly any Special Assessments that the Association may have throughout the year.
Year- End Financial Statements: Facilitate to the Association's independent CPA documents to complete the required type of financial statement.
Our advance technology frees our personnel from "busy work" and allows them to be hands-on the property and easily accessible by Board members, unit owners, and vendors.
Make the right choice and let Professional Management and Association Services Inc., provide an outstanding service to your Condominium Association, Home Owners Association, or Commercial Association.
PROPERTY TYPES WE MANAGE
Homeowners Association (2-49 units)
Homeowners Association (50-99 units)
Condominium Association (2-49 units)
Condominium Association (50-99 units)
Homeowners Association (100+ units)
Condominium Association (100+ units)